Keep Your Bakery Items Fresher Longer!
Product Announcement from LINDAR Corporation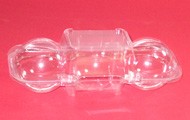 LINDAR's high quality LINDAR bakery packaging has excellent clarity and durable strength. LINDAR bakery clamshells have a built in Freshness Seal to keep your bakery items fresher longer. We have a been listening to our customer's requests by adding to our bakery containers product line that include cupcake containers (from single serve cupcake containers to 24 count cupcake containers), mini cupcakes, cookie containers, pound cake containers, muffins, and many other specialty items.
LINDAR bakery containers are available in PET or PLA NatureWorks™ material. Our customers are very diverse from retail bakeries to international bakery processors. This offers us a great perspective of the bakery industry needs. We have added a new slant to our containers to improve shipping efficiencies, contact us for more information.
LINDAR bakery packaging is stackable and also offers high performance on automated equipment denesting, closing and labeling.
Available in PLA NatureWorks
Derived from 100% annually renewable resources such as plants, Ingeo™ natural plastic, made from NatureWorks' biopolymer, is the worlds first polymer showing a significant reduction in greenhouse gas emissions. A biopolymer that offers more disposal options and is more environmentally friendly to manufacture than traditional petroleum-based plastics.
Click here to view our Food Packaging Catalog.
Click here to request a product sample!
Please contact us for more information:
Email: info@lindarcorp.com
Phone: (218) 829-3457
7789 Hastings Road
Baxter, MN 56425
---