Single serve cupcake container
Product Announcement from LINDAR Corporation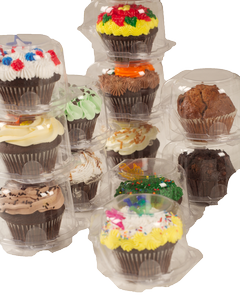 LINDAR had a one of a kind single serve cupcake container when we introduced and yet today we still have the only single serve container with a multi plane trim. We used this approach to truly have the cupcake container not be the center of attention, but have your cupcake be the focal point of the package. In addition, we incorporated our "Freshness Seal" and our unique product holding fingers in the package. Enhance your single serve cupcake sales by using LINDAR cupcake packaging.
Unique single serve cupcake package design:

One-piece package solution for single cupcakes & muffins
Enhanced display and protection
Label placement on the back of package
Stacks and opens effortlessly
Remove cupcakes & muffins from package easily
Available in both traditional and large sizes for cupcakes or muffins
Package is made from recycled or renewable materials
---------------------------------------------------------------------
Click here to request a product sample!
Single serve cupcake container product information
---------------------------------------------------------------------
Please contact us for more information:
Email: info@lindarcorp.com
Phone: (218) 829-3457
7789 Hastings Road
Baxter, MN 56425
---