Anti-Galling Clamps Improves Safety & Reliability
Featured Product from LJ Star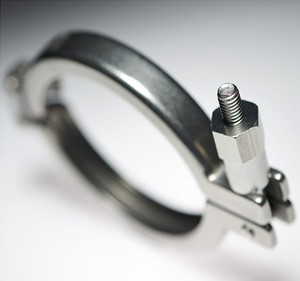 LJ Star offers a line of Anti-Galling Clamps that are specially designed to prevent the adhesion of materials due to friction and to keep processes running smoothly. The full line of Anti-Gall Clamps is produced to the highest hygienic engineering standards and are constantly being updated based on customer feedback and industry requirements.

"If galling occurs on a sanitary clamp, the nut and bolt fuse together so the operator can't easily remove the clamp," explained LJ Star Life Sciences National Sales Manager, Jeremy Sheldon. "Quite often, the operator would have to cut off the clamp to remove it. This would likely cause time delays and disrupt the overall manufacturing process."

With anti-galling clamps, the nut and bolt are made of dissimilar materials so that adhesion, or galling, is less likely to occur. LJ Star's Anti-Galling Clamps are available in a variety of materials, including 304 and 316 stainless steel. With higher quality and durability than lower-grade stainless, 316 stainless is ideal for demanding applications, including pharmaceutical, food/beverage and biotech applications.