Magnetic Level Gauges
Featured Product from L.J. Star Incorporated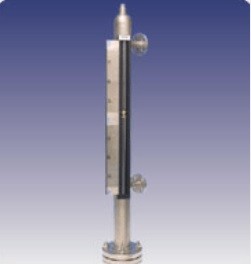 Measure fluid levels in boilers, tanks, process vessels and pipelines. The indicator magnetically locks onto the position of the float inside the chamber, moving up and down as the position of the float changes. No failure upon loss of power. Standpipe must be mounted inside the vessel.
Mounting: flanged or threaded.
Material, external indicator: stainless steel.
Material, internal standpipe: stainless steel, PVC, CPVC, Tefzel® lined, Halar® lined.
Connection sizes: ½ to 3 inches.
Pressure 150 to 900 psi.
Indication: flag, follower, foot scale, metric scale.