High Efficiency Cyclone
Featured Product from LTG Incorporated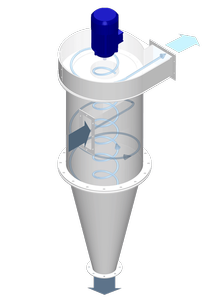 New LTG product:
Cyclone / Centrifugal Separator Type ZSV
High efficiency Cyclone with up to 30% energy saving due to integrated fan
The cyclone type ZSV is used for the continuous separation of dusts, particles and bulk solids. It is particularly distinguished by its increased energy efficiency due to an integrated fan. Compared to conventional cyclones, with separately connected fans, the newly developed cyclone has a reduced installation effort as well as a considerably lower space requirement due to not required piping. Another synergy effect caused by the direct combination of cyclone and fan is the use of the aerodynamic pre-swirl, which results in energy savings inside the fan. The pressure loss which is additionally reduced in this way also advantageously increases the separation capacity. The centrifugal separator type ZSV covers a large air volume range up to 10,000 m³/h. Its compact design and wear-resistant interior lining ensure maximum reliability, safety, and availability. Special versions are available on request including explosion-proof models according to ATEX.
Advantages and characteristics:
For separation of dust, particles and bulk material and for recovering valuable materials.
Large airflow range up to 10,000 m³/h.
Compact design and easy installation.
Special versions available on request, including explosion-proof models according to ATEX.
About LTG
Always staying one step ahead – that's the motto of LTG Aktiengesellschaft. Because we not only deal with the standard applications for air technology, but also and above all offer customised solutions for out-of-the-ordinary tasks. Our staff can apply the experience gained over decades, the skills acquired from thousands of successful projects and – most important of all – their inventiveness.
Need to learn more about LTG's technology? Please find more detailed information inside our image brochure.
Why LTG
We have been pioneers in ventilation and air-conditioning for over 90 years now, and have always been one step ahead. We create outstanding and customised solutions that help achieve perfect conditions for people and products. Ever since the company was founded, we have focused on quality, sustainability and listening to our customers. We also work closely with industry associations and technical committees, and are dedicated to giving something back to the community.
Tangential Fans
The principle of tangential fans provides an elegant and efficient solution for many applications requiring uniform air distribution over a long distance. The rugged design and the high-quality materials used in LTG's tangential fans ensure a long service life and excellent resistance to media and temperatures. Our product range offers a unique selection: impeller lengths of up to 137.8", diameters from 1" to 39.37" and temperature ranges from -292 °F to +1 472 °F – there's a perfect solution for very application.