Biosafety Cabinet, Purifier® Cell Logic
Product Announcement from Labconco Corporation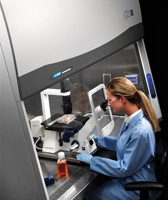 The Cell Logic incorporates several unique features into the biosafety cabinet to facilitate cell culture procedures. With the Cell Logic, scientists can safely use a microscope inside a biosafety cabinet without vibration issues while accurately maintaining sample temperature.
The Scope-Ready™ package incorporates the Pure-Vu™ eyepiece seal into the biosafety cabinet's glass sash and is designed to accommodate a wide range of microscope sizes and configurations. The Pure-Vu seal ensures user safety and provides protection against contamination of the sample. Other manufacturers have designed microscope seals that are opaque, limiting the user's vision of the sample at all times inside the biosafety cabinet. Labconco solved this problem using an exclusive material that is both chemically resistant and flexible, while also being completely transparent.
The Scope-Ready package also includes a vibration isolating microscope base plate. The Stand-Still™ Isolation Platform dampens cabinet vibration from the microscope, providing a 300% improvement in microscope stability. In addition, the Stand-Still Isolation Platform helps maintain airflow across the work surface to prevent areas of static airflow under the microscope.
Another package available on the Cell Logic is the Temp-Zone work surface. During cell culturing and research procedures samples are often incubated for growth or chilled for preservation. These samples are susceptible when removed from the heated or chilled environment. Labconco designed the Temp-Zone work surface to maintain the sample media temperature. The Temp-Zone work surface can be chilled to 2° Celsius or heated to temperatures exceeding those needed for cell culturing procedures. Distinctive laser micro-etching outlines the Temp-Zone area for the user without sacrificing cleanability of the work surface.
The Cell Logic also includes the unique and patented features of the Purifier® Logic® Biosafety Cabinet. The electronically commutated motor (ECM) is the most energy efficient motor technology in the industry. Labconco's patented airflow monitoring technology utilizes the ECM to precisely maintain the proper airflow through the biosafety cabinet. In addition, the LCD display is conveniently located and displays valuable information to the user. An industry first, the Filter Life Remaining bar graph takes the guess work out of when to replace the biosafety cabinet's HEPA filters. The LCD display also provides visual indication of alarm conditions and incorporates interval and countdown timers. The patented ergonomic airfoil on the Cell Logic improves user comfort during tedious microscopic manipulation procedures.
The Cell Logic can be configured in three ways – Scope-Ready, Temp-Zone, or Scope-Ready plus Temp-Zone. Please contact Labconco for help determining which configuration is most appropriate for your customer.
For more information, call 800-732-0031, download the pdf brochure at ww.labconco.com or watch the video (link below).

Play Biosafety Cabinet, Purifier® Cell Logic Video on YouTube
---