Biosafety Cabinet, Type A2, Class II
Product Announcement from Labconco Corporation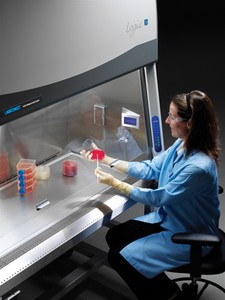 Purifier® Logic® Class II Biosafety Cabinets have a built-in electronically commutated motor, or ECM, which acts as the brain of the cabinet. It is programmed to precisely control the cabinet's airflow. The sensorless system uses a patent-pending technology called Constant Airflow Profile (CAP). CAP increases accuracy, reliability and the elimination of periodic recalibration of airflow sensors to ensure proper airflow by tenfold. This robust design is not susceptible to temperature and humidity fluctuations that can plague thermal anemometer-based systems. Testing has demonstrated that airflow is maintained with only a 1-2 % difference in airflow as the HEPA filter loads.
Purifier Logic's ECM design is 60% more energy-efficient than other types of motors, running cooler, providing a more comfortable work environment and more power so filters last longer. An LCD information center keeps users safe and alerted to current cabinet conditions. Operating parameters are constantly displayed, including the percent of filter capacity remaining. Programmable options permit users to define start up, shut down and standby parameters.
For more information, call Labconco Corporation at 800-732-0031, download the pdf brochure and white papers at www.labconco.com or watch the video at the link below.

Play Biosafety Cabinet, Type A2, Class II Video
---