Bulk Powder Enclosures Labconco XPert™
Product Announcement from Labconco Corporation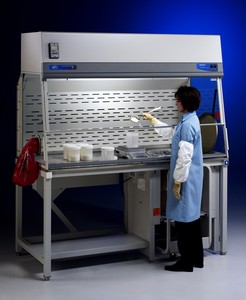 XPert Bulk Powder Enclosures include a patented ergonomic air foil with Clean-Sweep openings to enhance airflow and a zone-perforated rear baffle that creates horizontal laminar airflow to maximize containment.
Other exclusive features include:
Upper dilution air supply with by-pass air
Upper containment sash foil,
Side-entry air foils
Stainless steel work surface with front spill trough
Transfer caddy with caddy latch with positioning plate
Push-button operated electric hydraulic lift mechanism
30" interior depth and 32" interior height perfect for large equipment
Guardian 100 digital airflow monitor
Tempered safety glass front sash and sides
12" high sash opening and ergonomic angled sash with sealed gas-assisted springs
Epoxy-coated steel exterior
Left-side mounted waste chute
Fourplex electrical receptacle
Two utility ports
The Enclosure includes a 2" x 10" exhaust connection that requires ducting to house exhaust, remote blower or to a FilterMate Portable Exhauster. Call Labconco at 800-732-0031.
---