Nanos Enclosures, XPert
Product Announcement from Labconco Corporation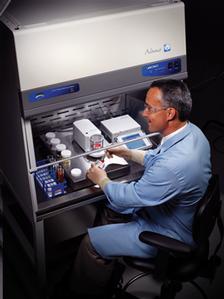 XPert® Nano Enclosures provide user protection by keeping hazardous powders and particulates contained during procedures such as nanoparticle manipulation and dry powder chemical handling. Room air is pulled into the enclosure through the front, flows to the baffle, and finally passes through a 99.99% ULPA exhaust filter before returning to the laboratory or cleanroom. Stainless steel interior sides, removable baffle, removable air foil, and integral work surface are easy to wipe down and keep clean.
Deep interior
Ergonomic air foil features aerodynamic Clean-Sweep® airflow openings
Upper dilution supply
Upper containment sash foil
Zone-perforated, rear baffle
Side entry air foils
Exhaust ULPA filter, 99.99% efficient on particles 0.12 micron in size
Top-accessible ULPA filter for leak scanning of entire surface
True bag-in/out filter disposal system (requires technician)
Built-in blower with dynamically-balanced, vibration-isolated motorized impeller and speed control
Guardian Airflow Monitor continuously monitors airflow
Pressure gauge to monitor filter loading
For more information call 800-732-0031, download the pdf brochure at www.labconco.com, or watch the video at the link below.

Play Nanos Enclosures, XPert Video on YouTube
---