Gaussmeter for Magnet Testing
Featured Product from Lake Shore Cryotronics, Inc.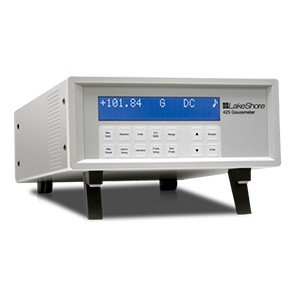 Designed to meet the demanding needs of the permanent magnet industry, the Lake Shore Model 425 gaussmeter provides high-end functionality and performance in an affordable desktop instrument. Magnet testing and sorting have never been easier. When used in combination with the built-in relay and audible alarm features, the Model 425 takes the guesswork out of pass/fail criteria. Additional features including DC to 10 kHz AC frequency response, max hold and relative measurement make the Model 425 the ideal tool for your manufacturing, quality control and R&D flux density measurement applications. For added functionality and value, the Model 425 also includes a standard Lake Shore Hall probe. Put the Model 425 gaussmeter to use with confidence knowing it's supported by industry leading experts in magnet measurement instrument, sensor, and Hall probe technology.
Features
Field ranges from 350 mG to 350 kG
DC measurement resolution to 4¾ digits (1 part of ±35,000)
Basic DC accuracy of ±0.20%
DC to 10 kHz AC frequency
USB interface
Large liquid crystal display
Sort function (displays pass/fail message)
Alarm with relay
Standard probe included
Standard and custom probes available
CE mark certification