Diamond Slurry Dispensing Unit
Product Announcement from Lapmaster-Wolters International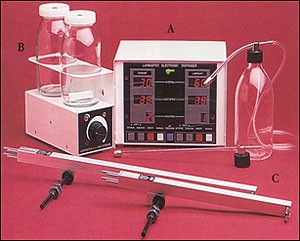 Economy & consistency with the use of Diamond Slurry Lapping/Polishing is the basis for the Lapmaster Diamond Slurry delivery system. The system consists of three (3) components: The slurry metering device (A), the slurry dispersing (agitation) unit (B) and the spray/drip bars (C).
The heart of this system is the digital, programmable, dual-output Slurry Metering Device with a bright, easy to read LED display. The Metering Device controls both the Diamond Slurry flow duration (length of time) and interval (frequency of application). An independent and programmable Lubricant controller (2nd output) is also part of the system.
The slurry dispersing (agitation) systems are configured in both 1 & 2 bottle models and are available in 120/230V versions. Encapsulated magnetic Stirring Bars (spares) are offered.
Spray-type (atomized) and drip-type slurry bars are offered in non-corrosive materials. The spray bars are available in 5" & 15" versions (single-bottle capacity), while the drip bars are set-up for 13.5" or 19.5" lengths (2-bottle capacity)
---