Bates Honing & Bore Finishing Tools
Product Announcement from Lapmaster-Wolters International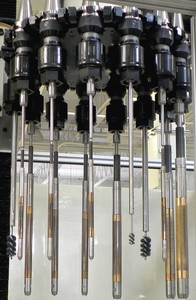 The honing process can deliver remarkable improvements in finished bore size, geometry, and surface finish - but only through the use of the proper tools for the job. High-quality, optimally designed tooling and abrasives are the key to every successful honing operation.
The right tooling solution is rarely available just off-the-shelf. That's why Barnes & Bates, now jointly owned by Lapmaster, offer all of the resources necessary to develop and build unique new honing tooling and abrasive packages that address long-standing customer problems - and ultimately improve end product performance.
Any bore, anywhere. Our honing tools are at work on everything from diesel engine liners, to hydrualic cylinder tubes, to gasoline engines for automotove, marine and lawn applications, and much more. In fact, tools have been developed for nearly every conceivable bore diameter and type: blind end bores, hard and soft, interrupted and continuous, and so on.
Barnes & Bate's in-house resources are unmatched in development and application of a full range of tooling packages including:
Superabrasive (CBN or diamond) tools,vitrified bond abrasive tools, combination roughing and finishing tools, Single-pass Bore Finishing sintered diamond tooling, diamond or CBN metal bond tools, plated super-abrasives, Plateau honing tools, Blind or interrupted bore tools, Abrasive brushing tools, and Stub-type tools
---