Alpha Wire Industrial Series V VFD Cable
Featured Product from Lapp Tannehill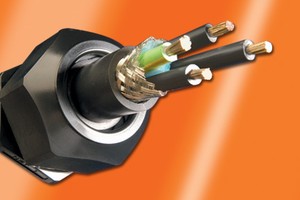 Alpha Wire Industrial Series V VFD Cable
VFD cables are becoming more popular with today's large focus on industrial factories and automation. A VFD cable needs to provide the proper shielding to reduce EMI/RFI noise while also providing a low-impedance signal return path, which will help shield against stray voltage that may lead to cable and/or equipment failure.
Alpha Wire Industrial Series V VFD cables are specifically built for variable-frequency drive applications. Their Industrial VFD cables are constructed with cross-linked polyethylene insulation providing superior corona resistance, low capacitance for longer runs, and excellent low-temperature properties. The Series V cables also have a foil and braid shield to prevent EMI/RFI interference in noisy environments. Or, in larger gauge cables, double copper tape is used to provide interference from noisy environments. They are designed to be symmetrical, allowing the cables to reduce motor damage from common-mode current, and are compatible with drives from all major manufacturers.
Browse Alpha Wire Industrial Series V VFD cables
Looking for technical information about wire & cable? Lapp Tannehill has a variety of resources, including glossary terms, technical charts, FAQs, white papers, & more. Check out these resources
Browse through our full line catalog featuring the latest cable innovations.
Why Choose Us?
Lapp Tannehill is your one source for your complete wire and cable needs. With 60 years of experience, we have over 8,000 satisfied customers in 50 states and over 20 countries. From start-ups to Fortune 1000 companies, Lapp Tannehill is here to serve you