Buying Cables for Extreme Temperatures
Featured Product from Lapp Tannehill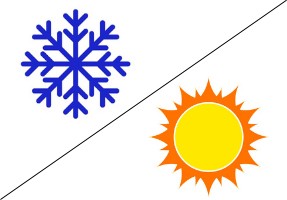 3 Things to Consider When Buying Cables for Extreme Temperatures
Selecting appropriate heat- and cold-resistant cables is crucial to ensure the longevity and reliable performance of your equipment in extreme temperatures. But what do you need to consider when searching for the best high- and low-temperature cables?
It can often be challenging to balance the different needs of extreme temperature applications. Continue reading to learn how material type, flexibility, and application specifics might influence your wire and cable selection process.
1. Extreme Temp Applications and Industries
Application specifics and environments play a major part in the best cables you need for extreme temperatures. Cables have to withstand temperature extremes in applications such as food and beverage machines, industrial ovens, furnaces, foundries, freezers, or outdoor machinery. It is not uncommon for environmental conditions to subject cables to continuous-use temperature as low as −50°C (-58°F) and as high as 180°C (356°F).
However, it is important not to overlook the potential for heat or cold that may be produced from the application itself. For example, if a cable is in use on a combustible application it may only be exposed to high heat in flashes or during short periods of time. Cable components must be able to withstand quick and sudden changes in temperature without sacrificing quality.
2. Cable Materials for Extreme Temperatures
Finding the right material for your cables is one way to ensure that they maintain high-quality performance and durability. Extremely high temperatures can soften, melt, or burn conductors, tubing, insulation, or shields. Choosing the correct high-temperature insulation compounds and conductor materials will help prevent wire and cable failure, thus reducing costly downtime for repairs. Such materials can include silicone, Teflon, silver- and nickel-plated copper, PTFE, polyurethanes, acrylic-coated fiberglass, and more. Fortunately, most cable materials that perform well in high-heat also tend to do well in cold environments. However, the important thing to keep in mind for cold temperatures is flexibility.
3. Flexible Cables Perform Better in Low Temperatures
Using flexible materials and cable construction is crucial for extremely cold temperatures because low temps will cause components to harden or become brittle, causing breakage when cables are bent or flexed. More flexible materials help alleviate the strain and prevent excess damage. Solid conductors will also be more rigid in cold temperatures, which is why it is generally recommended to select a conductor with a high strand count.
Cables are traditionally rated to withstand lower temperatures if the application does not require flexing or movement. Cables may carry two cold temperature ratings, one for flexing and one for stationary applications. For example, LAPP ÖLFLEX® CLASSIC 100 Flexible Power and Control Cables have a stationary rating from -40°C (-40°F) to +80°C (176°F) but a flexible use rating of -5° C (23°F) to +70°C (158°F). When stationary, these cables may work great for extremely cold temperatures but may not perform as expected if subject to frequent bending or flexing. More flexible cable options include the LAPP OLFLEX® 409 P or Alpha EcoFlex®.
Work with Professionals to Determine the Best High Heat or Cold Cable
It's difficult to provide generic temperature limits for complex cables or particularly challenging applications. Not only do you have to consider how the high heat or extreme cold could degrade the cable material, but you also need to consider bending requirements and other application-specifics.
There's no surprise that harsh environments put a lot of stress on equipment, including cables, and when a cable is being pushed to the limits, it's highly recommended to speak with a professional first to ensure you are selecting the best wire and cable solutions for your application.
As a distributor, Lapp Tannehill has access to a variety of cables that could work in your high- or low- temperature application.
Follow us on:
Looking for technical information about wire & cable? Lapp Tannehill has a variety of resources, including glossary terms, technical charts, FAQs, white papers, & more. Check out these resources
Browse through our full line catalog featuring the latest cable innovations.
Why Choose Us?
Lapp Tannehill is your one source for your complete wire and cable needs. With 60 years of experience, we have over 8,000 satisfied customers in 50 states and over 20 countries. From start-ups to Fortune 1000 companies, Lapp Tannehill is here to serve you