Does Your Cable Stand Up To Harsh Environments?
Featured Product from Lapp Tannehill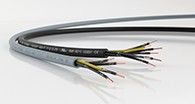 Multi-conductor cables are physically tough, and can withstand even the most demanding applications. Multi-conductor and communication cables come in different designs, including multi-conductor, multi-paired, and low capacitance versions.
Jackets and conductors consist of many different insulation compounds such as PVC, PTFE, Kynar, Polyethylene, Polypropylene, Silicone, and Hypalon. Multi-conductor cables come available in individual shielding or overall shielding. Individual shielding can be identified when each wire has some type of shield. Overall shielding is when the shield is applied around all the wires in a group. Shields are available in braid, foil, or both. Foil shields or foil/braid shields are used to ensure signal integrity and electrical performance.