Hybrid Cables Handle Servo Power and Feedback
Featured Product from Lapp Tannehill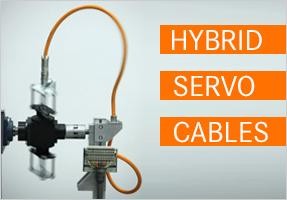 Hybrid Cables Handle Servo Power and Feedback
New Servo Cables Address Requirements of Hiperface DSL® Communications
Of all the components that make up an effective servo system, the power and signal cables don't get much attention. Yet the cabling plays a big role in the system's performance and lifecycle cost.
That role is about to get even bigger, thanks to an emerging digital communications interface for servo systems.
Called Hiperface DSL® by SICK, this new communications interface allows power and signal to share a single cable.This hybrid cable can drastically reduce the installation and maintenance costs associated with servo systems.
At the same time, the hybrid cable supports servo performance advantages related to Hiperface DSL's robust handling of feedback signals, which includes transmission rates up to 9.375 MBaud at lengths up to 100 meters.
If you've spent any time designing servo systems, the entire notion of a hybrid cable may cause some concern.
Common engineering practice requires separate cables for motor power and feedback
signals to avoid problems with electrical noise and crosstalk.
The Hiperface DSL standard avoids these concerns—as long as you use the right kind cable.
Hybrid cables designed for the Hiperface DSL interface need to be carefully constructed to ward off electromagnetic noise and crosstalk between the power and signal conductors. The cables, which serve in demanding automation systems, also need to be durable....more...
Follow us on:
Looking for technical information about wire & cable? Lapp Tannehill has a variety of resources, including glossary terms, technical charts, FAQs, white papers, & more. Check out these resources
Browse through our full line catalog featuring the latest cable innovations.
Why Choose Us?
Lapp Tannehill is your one source for your complete wire and cable needs. With 60 years of experience, we have over 8,000 satisfied customers in 50 states and over 20 countries. From start-ups to Fortune 1000 companies, Lapp Tannehill is here to serve you