LAPP Cables Power Cheese-Making Machines
Featured Product from Lapp Tannehill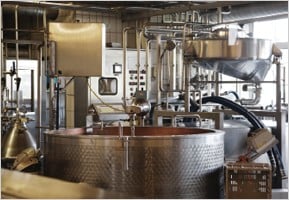 Download LAPP's Application Story "LAPP Cable Power Cheese-Making Machines" as a PDF
LAPP Cables Power Cheese-Making Machines
When it comes to cheese manufacturing, choosing the right processing equipment is just as important as choosing the right dairy.
As food and beverage requirements become more demanding, food processing equipment has become more complicated, with a stronger emphasis on washdown, flexibility, and lifespan.
Increasingly, manufacturers are relying on populated cable tracks for food processing applications.
An example of such an application is a finishing vat that's used for high volume cheesemaking. The vat required the flexibility of a multiuse finishing table for all varieties of cheese.
Its enclosed design is constructed entirely from stainless steel to eliminate the contamination of curd and achieve a more sanitary operation.
Typically used in high volume stirred-curd production plants, the finishing vat generates labor savings through its increased throughput, reduced maintenance, and automatic clean-in-place (CIP) capabilities.
These vats use a traversing carriage with an attached agitator rod that runs back and forth, separating the curd from the whey. Once the whey is removed, the remaining product is then salted to become cheese.
For the rotary carriage on top of the finishing vat, populated cable tracks from LAPP helped produce cheese in mass quantities.
Flexible Cables & Flexible Solutions
As manufacturing systems become more complex and require more cabling, populated cable tracks have started to gain ground in some unexpected applications.
or this finishing vat, a populated cable track was used for the first time.
This cable track is 21 feet long and features two ÖLFLEX® FD VFD cables and one ROBUST FD cable.
The ÖLFLEX® FD VFD cable is a shielded, continuous flex motor supply cable with a minimum bend radius of 7.5 times the cable diameter. It's designed to withstand the nonlinear power distortions associated with variable-frequency drives in industrial applications.
It features finely stranded bare copper conductors and a LAPP Surge Guard insulation system to prevent the cable from breaking down due to voltage spikes that can severely damage the wires.
With a minimum bend radius of 10 times the cable diameter, the ÖLFLEX® ROBUST FD control cable is ideal for food and beverage applications, particularly in the production and processing equipment of milk and meat products.
The ROBUST FD cable features extra-fine wire tinned copper strands and core insulation. For this finishing vat, the manufacturer needed a stainless steel track system that could handle the harsh chemicals used in washdown.
To help withstand this type of exposure and remain consistent, each cable in this populated track features chemical-resistant jackets made from specially formulated compounds for high-performance cables that provide reliable chemical resistance during washdown.
Proven Washdown Protection
Another reason for choosing LAPP cables in the finishing vat is that they're time-tested to withstand common washdown chemicals like Chloro Clean, San-I-King, Bright Solve, and Hydri-San.
Material safety data sheets (MSDS) for the plant's chemical composition were submitted to LAPP, who could provide a jacket using their specially-formulated compounds to withstand the chemical contact.
LAPP concluded that a cable track featuring ÖLFLEX® FD VFD and ROBUST FD cables would be the best choice for maximum chemical resistance.
Proper Cable Care Leads to Extended Cable Life
Maximizing the life of the populated cable track is a collaborative effort between LAPP and the customer.
First, the cable bend radius must be matched with the track bend radius to make sure they're evenly matched so the cables aren't too tight or loose. This design consideration minimizes the amount of friction in a given cable's channel.
The cables need to lie at a midpoint in the bend radius so there's no friction when the track moves back and forth. They must then be properly clamped to remain stable.
Not clamping the cables properly can lead to twisting and corkscrewing if they're moving more freely on one end of the track.
Before being installed into a populated cable track, the cables need to relax so that any natural coil is removed. The quickest and most efficient way to relax cables is to hang them.
Once relaxed, they need proper placement in the track to minimize friction. Using dividers to keep the cables stable in the track prevents them from developing a mind of their own as they travel back and forth.
Once a track is properly installed, it's crucial to follow a few simple steps to maintain the longevity of the track.
Making sure debris such as dust, matter from friction and hardened oil don't build up in the track will reduce friction and extend the cable track's life.
Keeping the paths clean and clear is essential for making sure the cables don't experience any additional friction.
For maintaining a populated cable track, it's important to make sure the clamps are tight. When clamping something over time, they can loosen up with a machine's vibration.
Minimizing friction and cork-screwing is more straightforward if cables are properly fixed.
Save Time from the Start
Early in the process, LAPP supplies a proposed 3D CAD model of the populated cable track to show how the cable track will integrate with the rest of the machine design.
LAPP's populated cable track saves labor since it's delivered in one piece and doesn't require in-house manufacturing.
Over the years, LAPP engineers have designed, built, and delivered thousands of populated cable tracks.
These cable tracks are made from their own power and signal products, as well as complimentary products from other suppliers such as air and hydraulic supply lines.
LAPP cable tracks have been implemented in a wide variety of servo and VFD applications, including those with high flex cycle requirements.
Their carriers run day in and day out on a wide variety of packaging, automotive, processing, and industrial automation machines.
If you are looking for help finding flexible VFD cables for your application, browse our website for flexible power and control cables, contact us today, or chat with us on the website. For a PDF version of this case study, download 'LAPP Cables Power Cheese-Making Machines'.
Follow us on:
Looking for technical information about wire & cable? Lapp Tannehill has a variety of resources, including glossary terms, technical charts, FAQs, white papers, & more. Check out these resources
Browse through our full line catalog featuring the latest cable innovations.
Why Choose Us?
Lapp Tannehill is your one source for your complete wire and cable needs. With 60 years of experience, we have over 8,000 satisfied customers in 50 states and over 20 countries. From start-ups to Fortune 1000 companies, Lapp Tannehill is here to serve you