LAPP's 4 PVC Cables for the Outdoors
Featured Product from Lapp Tannehill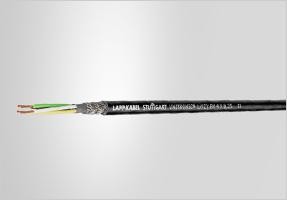 Download the 'LAPP UNITRONIC® LiYY/LIYCY PVC Cables' Data Sheets
LAPP's 4 PVC Cables for the Outdoors: UNITRONIC® LiYY/LIYCY
New PVC Cables from LAPP for Mechanical and Plant Engineering
It's a simple truth: If you go out, you should dress accordingly. This also applies to cables. When they are installed outdoors, they should also be UV-resistant.
LAPP now has four PVC cables for data and signal transmission in the low-frequency range with a black outer sheath (BK) in its portfolio. This makes them suitable for outdoor use in accordance with DIN EN ISO 4892-2.
For example, the classic data and signal transmission cable is available with a black outer sheath, the UNITRONIC® LiYY BK. A wide range of dimensions are available for a wide range of applications.
The compact design enables small outer diameters despite the high number of cores. The classified fire behaviour properties are defined in accordance with EU Directive 305/2011 (BauPVO/CPR).
This means that the new black UNITRONIC® can be used universally on machine interfaces for many applications for data and signal transmission in the low-frequency range. For example for computer systems, electronic control and regulation devices, office machines or scales.
It is suitable for fixed installation or for light mechanical stress and can be used in dry and damp environments.
For outdoor use, LAPP also has the new twisted pair version UNITRONIC® LiYY (TP) BK in its portfolio. Thanks to the twisted pair (TP) with short lay lengths, the conductor circuits are well decoupled. The shielded UNITRONIC® LiYCY BK is also available.
Thanks to its copper braiding, it protects against capacitive interference from electrical fields with a high degree of coverage. It is supplemented by the shielded version with twisted pairs UNITRONIC® LiYCY (TP) BK.
Follow us on:
Looking for technical information about wire & cable? Lapp Tannehill has a variety of resources, including glossary terms, technical charts, FAQs, white papers, & more. Check out these resources
Browse through our full line catalog featuring the latest cable innovations.
Why Choose Us?
Lapp Tannehill is your one source for your complete wire and cable needs. With 60 years of experience, we have over 8,000 satisfied customers in 50 states and over 20 countries. From start-ups to Fortune 1000 companies, Lapp Tannehill is here to serve you