Medical Wire & Cable
Featured Product from Lapp Tannehill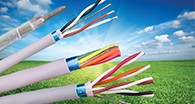 Medical Wire & Cable
With wire and cable creating the critical connections between signals and power, you need to trust that they'll deliver. Lapp Tannehill carries a variety of medical wire and cable, offering great space-saving solutions with easier routing in applications such as medical probes, endoscopy systems, and oximetry systems.
Some of the Alpha Wire cable and wire series we carry for the medical industry, include EcoCable and EcoWire; Essentials Micro Coax, Multi-Conductor, Multi-Pair, and LSZH; and Xtra-Guard 1.
Don't see the product you're looking for? Let us know. We offer a wide variety of products that may not be online. Contact us and our sales support team will help you get exactly what you need.
Look no further for your medical components.
Medical wire, cable, tubing & connectors you can trust all in one spot.
Choose Lapp Tannehill as your trusted distributor of medical wire, cable, tubing, and connectors. As a one-stop shop for medical device components, we help you save time and money searching for the right products and get you exactly what you need. We understand that you need the highest quality and most reliable components when designing medical devices, which is why we only offer quality medical components that meet medical industry quality standards.
Why Choose Us?
Lapp Tannehill is a wire and cable distributor that is an operating affiliate of LAPP. Our broad range of products from LAPP and other well-known manufacturers and suppliers offers solutions to a wide range of industries, including factory and industrial automation. With over 60 years of experience, Lapp Tannehill brings a lot to the table, including custom capabilities, value-added services, knowledgeable customer service, a superior quality system, and more. Learn more about how we can better serve you and your cable needs.