One Source For Medical Device Components
Featured Product from Lapp Tannehill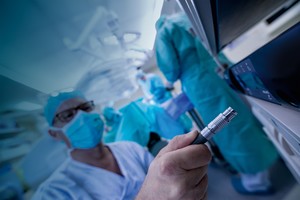 Medical Connectors
Lapp Tannehill is an authorized distributor of ODU connectors, including MEDI-SNAP®, MINI-MED®, and MINI-SNAP®. ODU's state-of-the-art precision connectors and reliable connector technology are available for a wide range of medical applications in the hospital environment, the doctor's or dentist's office, or in home health care.
Whether for transmitting signals, power, data, media such as air and liquids or even lights waves, ODU offers a wide variety of connections for a wide range of requirements, providing highly developed, broadly functional contact technology that meets the highest requirements of medial applications.
Look no further for your medical components.
Medical wire, cable, tubing & connectors you can trust all in one spot.
Choose Lapp Tannehill as your trusted distributor of medical wire, cable, tubing, and connectors. As a one-stop shop for medical device components, we help you save time and money searching for the right products and get you exactly what you need. We understand that you need the highest quality and most reliable components when designing medical devices, which is why we only offer quality medical components that meet medical industry quality standards.
Get the Latest Info on Industrial Automation Cables
Is your organization involved in industrial and/or factory automation? Perhaps you or an engineer you work with could benefit from design and engineering tips and guidelines? Lapp Tannehill has a library of free white papers that can increase your proficiency in industrial automation and the cables that help make it happen.
Browse through our full line catalog featuring the latest cable innovations.
Automation Wire & Cable Solutions
Lapp Tannehill recognizes the importance of automation engineering, particularly in manufacturing and processing, and the critical role reliable cable technology plays in this evolving industry. We'll help you find the right solution for your application and provide reliable products for the various processes in the automation industry, including wire and cable, industrial connectors, strain relief cable glands, and wire management.
Why Choose Us?
Lapp Tannehill is a wire and cable distributor that is an operating affiliate of LAPP. Our broad range of products from LAPP and other well-known manufacturers and suppliers offers solutions to a wide range of industries, including factory and industrial automation. With over 60 years of experience, Lapp Tannehill brings a lot to the table, including custom capabilities, value-added services, knowledgeable customer service, a superior quality system, and more. Learn more about how we can better serve you and your cable needs.