SKINTOP® Cable Glands Are Watertight
Featured Product from Lapp Tannehill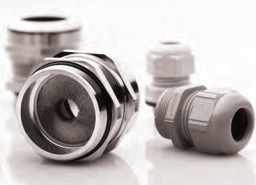 Metallic & Non-Metallic cable glands. Used in panels, switches, control boxes, submersible pumps, appliances, and tool applications.
Why choose SKINTOP®? There are several good reasons:
Optimum Strain Relief
Various Approvals & Standards
Large Clamping Range
Resistant to Heat & Cold Temperatures
Resistant to Oil & Acids
Resistant to Sunlight & Ozone
Permanent Vibration Protection
Watertight
Indoors or outdoors, in hot or cold conditions - there are many possible applications for SKINTOP® glands. First patented 35 years ago, our quality cable glands are in demand in many applications.
Industrial Automation
Sensors & actuators (e.g. flow meters, motors, drives)
Offshore, Marine & Shipboard
Yachts, underwater lighting equipment
Food & Beverage
Filling & bottling machinery, baking equipment
Renewable Energy
Wind turbines, solar panels & combiner boxes
Water & Waste Water
Pumps & water treatment equipment
Electrical Equipment
Control cabinets, enclosures & junction boxes
With SKINTOP® you can install the cable in an instant: just feed the cable in and turn the nut until tight. Your cable is centered, hermetically sealed, and completely strain relieved with a turn of the hand. If you do not wish to use your hands, you can work with a spanner wrench or SKINMATIC® RZ tool. Either way, with SKINTOP® you can achieve maximum reliability. SKINTOP® quality is continuously monitored to ensure a level of reliability that has resulted in many international approvals.