Say Goodbye to Multiple Connection Points
Featured Product from Lapp Tannehill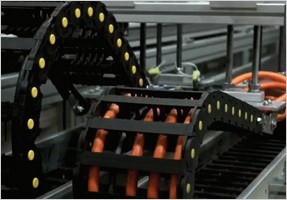 ÖLFLEX® SERVO: Choosing the Right Cable for Your Application
LAPP's tray cable (TC-ER), ÖLFLEX® SERVO FD 7TCE, can be routed on factory floors without conduit for faster installation and less labor and material costs.
In many servo applications the motor and drive are located a distance away from each other. This is often the case with large production systems utilizing several machining/operation stations.
This situation presents three primary challenges: running the servo cable from the drive to the equipment that is flexing, maintaining connectivity over the distance, and installing cable to code.
One method of running cable from drive to equipment is through conduit within the factory infrastructure and then to the cable track. This method is up to code, but it is also labor and material intensive.
The other option is to run tray-rated (TC or TC-ER) cable from the drive to equipment. Tray-rated cables are now more commonplace and can be routed within the plant infrastructure to factory floor equipment without conduit.
However, that's where these cables hit a dead end. Unfortunately, they are not designed for continuous flexing within a cable track.
To resolve this problem, the tray-rated cable must be terminated at the end of the tray with a connector, and another cable that is continuous flex rated with its own connector must be assembled to connect to the tray-rated cable.
A typical tray-rated cable in the above example can be a Variable Frequency Drive (VFD) cable. These cables are generally larger and heavier than servo cables with limited flexibility.
Read more about VFD cables in LAPP's white paper on 'Robust VFD Solutions to Meet Industry Standards'.
he cables are terminated at the tray with a connector, and then connected to a continuous flex servo power cable.
But like other TC cable, the VFD fails to meet the DESINA standard; often the cable diameter is too large for the appropriate connector and having multiple connection points often degrades the signal.
The new ÖLFLEX® SERVO FD 7TCE overcomes these challenges and additional costs by eliminating conduit, and the need for multiple cables and connection points. This is a single cable solution for the power connection to the servo motor.
Follow us on:
Looking for technical information about wire & cable? Lapp Tannehill has a variety of resources, including glossary terms, technical charts, FAQs, white papers, & more. Check out these resources
Browse through our full line catalog featuring the latest cable innovations.
Why Choose Us?
Lapp Tannehill is your one source for your complete wire and cable needs. With 60 years of experience, we have over 8,000 satisfied customers in 50 states and over 20 countries. From start-ups to Fortune 1000 companies, Lapp Tannehill is here to serve you