Single-pair Ethernet (SPE) cables
Featured Product from Lapp Tannehill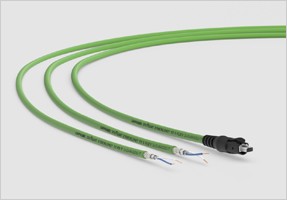 Download this 'LAPP ETHERLINE® T1 Y Flex' Data Sheet
ETHERLINE® T1 Y Flex: LAPP Expands Single-Pair Ethernet Cable Range
The LAPP portfolio already includes single-pair Ethernet cables. The company has based the connector on the standardised connector face set out in IEC 63171-6. LAPP will provide the complete solution for single-pair Ethernet infrastructure in industry.
Single-pair Ethernet (SPE) is a key technology on the way to the Smart Factory and Industry 4.0. It enables more consistent and more efficient Industrial Ethernet networks and only needs one pair of cores to transmit data.
Previously, 2 and 4-pair Ethernet cables have been the standard. This saving enables new smart components to be integrated into the network, which were previously not networked via Industrial Ethernet.
With the ETHERLINE® T1 product family, LAPP was ahead of the game in presenting prototype single-pair Ethernet cables for use in industrial machinery and systems.
The first single-pair Ethernet cable is now available from stock. As part of its spring launch, LAPP will be introducing the new ETHERLINE® T1 Y Flex 1x2x22/7 AWG.
The ETHERLINE® T1 Y Flex 1x2x22/7 AWG is a UL-certified two-core data cable for highspeed information exchange that maintains the same high data rates while significantly reducing the setup required.
Thanks to its small bending radius and small outer diameter, it is exceptionally lightweight and easy to install and is indispensable for connection at the field level.
Follow us on:
Looking for technical information about wire & cable? Lapp Tannehill has a variety of resources, including glossary terms, technical charts, FAQs, white papers, & more. Check out these resources
Browse through our full line catalog featuring the latest cable innovations.
Why Choose Us?
Lapp Tannehill is your one source for your complete wire and cable needs. With 60 years of experience, we have over 8,000 satisfied customers in 50 states and over 20 countries. From start-ups to Fortune 1000 companies, Lapp Tannehill is here to serve you