The Smallest and Most Powerful Mini Connector
Featured Product from Lapp Tannehill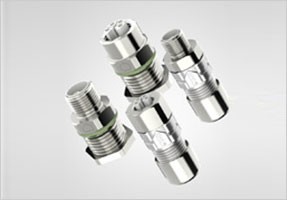 Smallest and Most Powerful Mini Connector on the Market
LAPP uses the power of digital twin technology to design their new mini connector by simulating virtual models put through digital design stresses before the first 3D printed model was even created.
Mini Connectors for Small Robots, I/O Modules for PROFINET, and Automated Guided Vehicles
Although EPIC® Power M12 connectors were created by LAPP in response to market demand for smaller requirements, there are a lot of key discoveries they've found with the development of this product.
The new EPIC® POWER M12L connector is suitable for many applications such as: small robots (known as "cobots") that operate alongside humans in production or in warehouses, I/O modules for PROFINET, and automated guided vehicles (AGV's).
7/8" connectors were the standard power interface for sensor/actuator distributors... until now. The switch from the old standard to M12L enables box to be reduced in size by more than 50%.
The mechanical L-coding of the mating face prevents mismating with the mating connector. A crimp connectivity creates a vibration proof connectivity, ensures maximum reliability between contact and cable and is suitable for automated assembly.
It can achieve IP 65/67 and IP69 protection when mated and locked. With the UL certification, the EPIC® POWER M12L is approved in North America.
The new connector is also available as a 4-pole version with a black insulating body and as a 4+FE version with a grey insulating body and functional earth contact (FE).
EPIC® POWER M12L technical features:
Standard for 24 volt power systems
63 V DC / 16 A
4-pole (if devices can be earthed on the housing) or 4 + FE (functional earth)
0.75 mm² / 1.5 mm² and 2.5 mm²
Cable cross-sections from 6 to 12.5 mm
4-pole cable, black outer sheath; 5-pole cable gray
Wire colors brown / white / blue / black / gray or pink (pink = AIDA)
Shielded / unshielded

Other additions are available to suit the EPIC® POWER M12L series: an EPIC® POWER M12L D6 coupling connector, an EPIC® POWER M12L G4 panel-mount base, an EPIC® POWER M12L F6 cable connector and the EPIC® POWER M12L A4 panel-mount base.
All variants are available with solder contacts as an option. There are also EPIC® POWER M12L contacts with multiple slots and marking of the conductor cross-section to ensure maximum contact from the plug connection.
Smaller Connector Design with the help of Digital Twin Technology
The technical properties of these connectors were simulated using virtual models during early design development, resulting in significantly smaller design sizes and improved power transmission compared to other connectors designed by LAPP.
The two M12K series for energy transmission up to 630V/12A and M12L up to 60V/16A were virtually put through their paces before producing the first 3D-printed model.
This means that the limit of power transmission with increasingly smaller connectors is first evaluated virtually and then transferred to initial prototypes and series production.
"The previous M12 connectors have already been developed very close to the limits of feasibility. We have now checked all the adjusting screws once again to achieve the best results. Without a design using a digital twin, this would hardly have been possible," explains Martin Guserle, Head of Business Unit EPIC® Connectors at U.I. Lapp GmbH.
Miniature products are continuing their popular streak as many applications become more compact, assembly spaces become smaller, and the need to create a pluggable connection has been growing in popularity.
Martin adds, "We anticipate that the majority of new machines and systems will be set up with M12 L coding as the power interface in the future."
What is a digital twin?
To put it simply, a digital twin is a virtually simulated model designed to reflect how a physical model or product would work in the real world.
Engineers and designers procure digital twins to study performance issues, modify and improve design flaws, and replicate how it might work with other products or systems before a physical protoype exists.
Digital twins are very benefical during the early phases of design due to engineers being able to save money and time without multiple design iterations of a physical prototype and before a BOM (bill of materials) is needed.
Digital twin technology is being used by wire harness manufacturers in the wire and cable industry to test and optimize product performance while also being able to detect and prevent potential production bottlenecks.
Follow us on:
Why Choose Us?
Lapp Tannehill is your one source for your complete wire and cable needs. With 60 years of experience, we have over 8,000 satisfied customers in 50 states and over 20 countries. From start-ups to Fortune 1000 companies, Lapp Tannehill is here to serve you