What is a tray cable?
Featured Product from Lapp Tannehill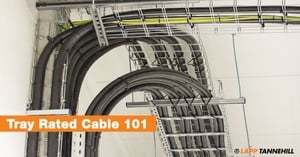 What is a tray cable and what makes it different from a standard multi-conductor? Learn this and more in our Tray Rated Cable 101 article
Tray-Rated Cable 101
What is tray cable?
According to the NEC (National Electric Code), tray cable is defined as "a factory assembly of two or more insulated conductors, with or without associated bare or covered grounding conductors under a nonmetallic sheath, for installation in cable trays, in raceways, or where supported by a messenger wire." Tray cable is sunlight, heat, and moisture resistant and adheres to UL specifications. Both 300V and 600V tray cables are tested to meet the same flammability standards.
What makes a tray-rated cable different from a standard multi-conductor?
Tray cables are high-quality cables that have been tested rigorously and generally boast armor over individual conductors for superior insulation and a robust jacket that can withstand heavy abrasion. Tray cables also pass stringent impact and crush tests per UL 1569 and do not require the use of conduit. This lowers installation and maintenance costs, while also making routing during installation quicker and easier, especially when using tray-rated cables with flexible jackets, like ÖLFLEX®190 & ÖLFLEX®190CY, ÖLFLEX® AUTO-I, and more.
When should you use a tray-rated cable?
Tray cable is applied in many different industrial plant expansions, automotive plants, tray wiring, wind energy, machine tool, forestry equipment, oil and petrochemical equipment, cold temperature storage and packaging facilities, processing equipment, and more. Despite wide-spread misinterpretation in the industry, standard tray-rated cable cannot run outside of the cable tray per the National Electrical Code (NEC) Sec. 336.10(7) from 2014. If a cable must run outside of a tray for any length, a tray cable rated for "exposed-run"(ER) must be used.
When should you use an exposed-run (ER) tray-rated cable?
Unlike standard tray-rated cable, exposed-run tray-rated cables can be installed in applications where the cable will drop from tray to tray or from tray to equipment, like a motor. These cables can be installed outside of the cable tray for six feet at a time for up to 50 feet with proper support, like with struts. In some applications, this reduces the need to protect non-ER cable in conduit when it runs between the tray and the device, since they comply with the crush and impact requirements of armored cables. This eliminates the cost of conduit and installation, additional armor, and a hefty NEC violation fee.
What are the different tray ratings, what do they mean, and where are they commonly used?
Type TC (Tray Cable) tray-rated cables will be the most common type you will see on the market. These are rated to 600V, and there are no length restrictions during installation. These cables are most commonly used in power and control circuits and in tray applications where flame retardant properties are required. They can be installed in raceways, cable trays, and in outdoor applications. If you intend to install a 600V tray-rated cable with slack between the tray and a piece of equipment for more than 6 feet, be sure to use a Type TC-ER (Tray Cable- Exposed Run) tray rated cable like ÖLFLEX® TRAY II, ÖLFLEX® Control TM/TM CY, ETHERLINE® TRAY CAT7, or ÖLFLEX® TRAY VTC.
Type PLTC (Power Limited Tray Cable) cables are tray-rated cables rated to 300V per UL 13. These tray-rated cables are commonly used by OEM's and in non-plenum and non-riser applications. Power limited tray cables can be routed in the same tray as 600V power and control tray cables when separated by a divider. There are many sub-ratings within the category of PLTC cables, so many of these tray-rated cables are tested for multiple ratings. You will find dual ratings in many cables, like UNITRONIC® 300 STP.
Type ITC (Instrumentation Tray Cable) cable is the most common type of PLTC cable that we see in the market. These cables are also rated to 300V, but are intended for use in direct burial applications and are typically used by contractors. The drop length for an ITC cable between tray and equipment cannot exceed 50 feet outside of the tray, even when supported. Browse Type ITC products like ÖLFLEX® Chain TM & ÖLFLEX® Chain TM CY, UNITRONIC® 300/300S, and UNITRONIC® 300 STP as well as our other tray-rated products to find the right fit for your application.
Browse our tray-rated cables and use our chat to talk with a sales representative today to find the best solution for your application.
Follow us on:
Looking for technical information about wire & cable? Lapp Tannehill has a variety of resources, including glossary terms, technical charts, FAQs, white papers, & more. Check out these resources
Browse through our full line catalog featuring the latest cable innovations.
Why Choose Us?
Lapp Tannehill is your one source for your complete wire and cable needs. With 60 years of experience, we have over 8,000 satisfied customers in 50 states and over 20 countries. From start-ups to Fortune 1000 companies, Lapp Tannehill is here to serve you