What to Consider When Selecting Cord Grips
Featured Product from Lapp Tannehill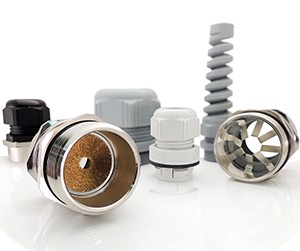 3 Considerations You Should Think About When Selecting Cord Grips
Whether you know them as cord grips, strain reliefs, cable glands, cable support grips, or cord connectors, by any name, these devices are used to relieve stress on the vulnerable part of the cable, preventing cable damage and failure, and enables electrical cables to be passed into an enclosure, through a bulkhead or into a piece of equipment. Cord grips provide strain-relief, vibration protection, and a liquid- and dust-tight seal while also preventing the cable from being pulled out of its installation.
When selecting a cord grip, you'll need to consider the material you need (stainless steel, polyamide, nickel-plated brass, etc.), size, installation design (multi-cable panel mounting, click insertion, standard twist-to-tighten, in-wall installations), and more. Most of that is just checking off the boxes of your application's requirements, especially when you notice that many of the solutions from manufacturers have similar features. But when you take a closer look at the execution and quality of these specific features, you'll realize that they are not all created equal.
Before we dig into what you should consider when selecting a cord grip, let's quickly review the components of a standard cord grip.
Components of a Standard Cord Grip
A standard cord grip includes a dome cap, seal, and body. The body includes lamellar "fins" that tighten around the cord for strain relief and protection. When installed, the cap will fit snugly over the body of the cord grip and should create a seal around the cable when optimally tightened.
What to Consider When Selecting Cord Grips
While every manufacturer has these standard components as part of their cord grip solution, there are differences between the actual design and ultimately, the quality. Let's take a look at three things you should consider when selecting your cord grips.
1. Reliability of the Seal, Strain, and Vibration-Proof Performance
Most cord grips on the market feature a lamellar design and some type of locking mechanism that provides vibration protection, but the design of the lamellar fins and how they engage with the dome cap is important to consider.
2. Quick and Secure Installation
Ease of installation on the job site is critical. The unique multi-trapezoidal thread of SKINTOP® cord grips requires just one twist to tighten the dome cap, automatically adjusting to the size of the cable and providing optimum strain relief and a liquid-tight seal. When the cap is tightened and the lamellar fins engage with the internal ratchet inside the sealing portion of the cord grip, the user will hear a series of clicks, signaling the secure grip after just one twist and that the installation is complete.
3. Inventory Reduction and Simplification
The potential to reduce the number of SKUs at your facility is crucial for cost savings and inventory optimization. The unique design of the SKINTOP® cord grips' seal and narrow lamellar fins provide for a 20% larger clamping range. With each SKINTOP® cord grip being compatible with a wider range of cables, you can manage fewer SKUs in your inventory, helping you simplify your operation and reduce costs.
Conclusion
While many cord grips offer similar features, not all features are created equal. Request samples of the different cord grips so you can see and feel the difference in quality. For any questions on strain relief cable glands, Lapp Tannehill is here to help.
Looking for technical information about wire & cable? Lapp Tannehill has a variety of resources, including glossary terms, technical charts, FAQs, white papers, & more. Check out these resources
Browse through our full line catalog featuring the latest cable innovations.
Why Choose Us?
Lapp Tannehill is your one source for your complete wire and cable needs. With 60 years of experience, we have over 8,000 satisfied customers in 50 states and over 20 countries. From start-ups to Fortune 1000 companies, Lapp Tannehill is here to serve you