Cable Bushing Minimizes Installation Headaches
Product Announcement from Lapp Group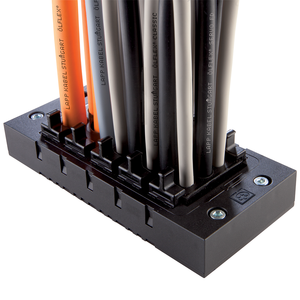 The Lapp Group's new SKINTOP® CUBE MULTI cable bushing allows combinations of up to 23 electrical cables or pneumatic lines to pass directly through the enclosure wall, solving the common problem of trying to bring all the necessary power and signal connections into today's increasingly complex electronics enclosures.
SKINTOP® CUBE MULTI system places a rigid, glass-reinforced nylon frame into a standard-sized cutout in the enclosure wall. Inside this rectangular frame is a polycarbonate insert with gel-filled hole for the cables or lines to pass through, which is an industry first. The gel allows the cables to be easily inserted through the holes while create a lasting seal around the cables and provide strain relief.
Available in two versions, CUBE MULTI maximizes wire density for a given size cutout. For example, one version can pack 23 cables, ranging in size from 6 to 9 mm, into 36 x 112 mm cutout, which is the standard size for a 24-pin industrial connector.
Click the link below for more information:
---