Fiber Laser Welding Workstation
Product Announcement from LaserStar Technologies Corporation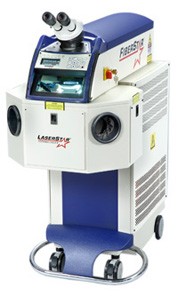 The FiberStar Fiber Laser Welding Machine offers a significant competitive advantage for today's aerospace, electronics, medical device and micro component assembly marketplace subject to stringent quality requirements.
Fiber laser welding technology produces a sharp, focused light beam that consistently melts a very small area of metal. The benefit of the technology is that very little heat is generated at the weld point allowing users to easily laser weld > 0.025mm from complex, heat sensitive, intricate parts while providing unparalleled parameter flexibility from 0 – 100% duty cycle.
Designed to the highest standards of reliability, repeatability, and user safety, all FiberStar fiber laser welding machines offer a factory sealed, maintenance-free laser source designed for more than 30,000 hours of operation.
FiberStar Fiber Laser Welding Machines are ideal for a wide range of complex alloys and applications including:
Medical Device Components • 300 Series Stainless Steel
Aerospace and Electronics • Nitonol, Titanium, Platinum
Automotive and Micro Components • Many Complex Alloys
---