Advanced Laser Welding Workstations
Product Announcement from LaserStar Technologies Corporation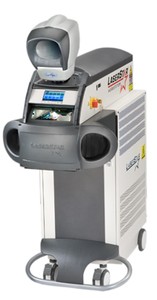 7000 Series LaserStar Laser Welding Workstations
The 7000 Series LaserStar Laser Welding Workstation offers a significant competitive advantage for today's operators looking to unleash the power of hot light, benefit from a comfortable, ergonomic design and ensure optimal platform technology.
Operators can benefit from pin-point accuracy, increase the range of assembly and repair applications and minimize potential hazards of heat damage. The resulting laser weld is considerably stronger than a traditional bonded joint.
LaserStar laser welding workstations offer "space-saving" versatility while incorporating a state-of-the-art compact cooling system. The result -­­­­ a significant pulse energy advantage while maintaining minimum water cooling temperatures and 24-hour operational performance. Our commitment to electrical design efficiency ensures the highest level of hot-light energy transfer from the LaserStar source through the laser welding chamber.
7000 Series LaserStar manual laser welding systems are available in 110V and 220V line voltage while offering up to an industry leading three year warranty.
Custom configurations are available upon request.
Made in USA.
---