Self-Cleaning STAMM Showers
Product Announcement from Lechler, Inc.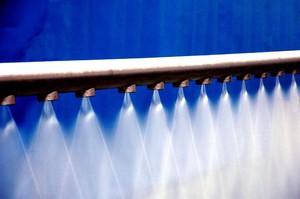 STAMM Showers and Oscillators for Pulp & Paper
STAMM GmbH is a worldwide leader in shower and oscillator technology for industries such as pulp & paper and dewatering for wastewater treatment. Lechler, Inc. is proud to be the exclusive manufacturer and distributor of STAMM equipment for North America. You can also visit STAMM's web site to learn more about these products.

Showers with Built-in Cleaning Device
STAMM's spray showers with the built-in cleaning device have been successfully used in paper mills around the world for years. A simple turn of the handwheel sweeps contaminants away from the nozzle orifices and directs all debris down the flush-out valve. Available nozzles for the STAMM showers are flat fan and solid stream (needle jet).
Shower Oscillators
In combination with these showers, STAMM's state-of-the-art line of oscillators for use in paper mills ensures streak-free cleaning of wires and felts with minimal water consumption. Oscillator technology includes pneumatic, hydraulic and electromechanical (electrical and crank-type).
Applications:
Pulp and Paper Making
Dewatering Devices (Belt Filter Presses, RVDF)
Conveyor Lubrication
Mining
Tire Manufacturing
Fruit & Vegetable Washing
Pickle Lines
Galvanizing Lines/Continuous Annealing
Wet Tempering
Washing with Recycled Water
---