Custom Compression Springs
Product Announcement from Lee Spring Company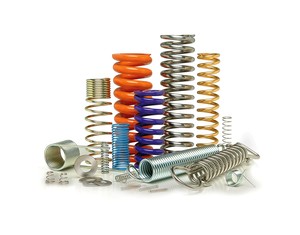 Look to Lee Spring's Custom Edge for World-Class Custom Spring Manufacturing
Lee Spring is recognized for global leadership in the manufacture of both Stock Springs and Custom Springs. In addition to our vast manufacturing capabilities, we have a large staff of experienced engineers to assist you. Our expert engineers can work from your drawings, specifications or part samples. We offer Concurrent Engineering support, assisting you in developing your initial designs and continuing to support your product throughout the design and manufacturing process.
Custom Compression Spring Capabilities
Lee Spring manufactures Custom Compression Springs in wire diameter .004" to .625", and in a variety of shapes, including barrel, concave, conical, convex or straight. Not sure we can make it? Try us!
A Lee Spring engineer evaluates every custom design submitted to us, as these dimensions and our overall capabilities are flexible and continuously expanding.
We manufacture Custom Compression Springs in a wide range of alloys including:
• Stainless Steel 17-7 and 316 • Phosphor Bronze • Hastelloy ® • Inconel 600, 718 and x750 • Beryllium Copper • Elgiloy
and many others
Lee Spring's State of the Art Manufacturing Equipment combines with Lean Manufacturing Techniques to produce the exact springs and metal parts you need, when
Compression springs are often specified to work in a bore or over a rod. They can be supplied with ground ends for improved squareness and reduced solid height. In some cases, they can be preset in manufacturing to maintain their length at elevated stress levels. Lee Spring performs virtually every special process in-house to assure comprehensive quality control and maximum efficiency, including:
• Plating
• Passivation
• Powder Coating
• Grinding
• Heat-Treating
• Polishing
• Assembly
When it comes to designing and producing any type of custom springs, Lee Spring is your first choice.
You can depend on Lee Spring for:
• Rapid Quotation Response
• Quick Turn-Around on Short Runs
• RoHS Compliance
• Global Distribution
• ISO 9001:2000 Certification.
Whether your requirements call for a special spring, washer, stamping or wireform, only Lee Spring gives you the leading edge you need in today's global environment.

Play Custom Compression Springs Video
---