HEFTY Die Springs
Product Announcement from Lee Spring Company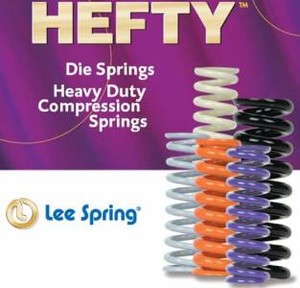 Lee Spring's HEFTY™ Die Springs are compression springs specifically designed to be used as Die Springs or in any heavy stress, heavy load application manufactured.
HEFTY Springs are manufactured using round wire. In recent independent testing conducted by the Institute of Spring Technology, Lee Spring's HEFTY Die Springs demonstrate a life-expectancy equal to traditional rectangular wire Die Springs . The Institute of Spring Technology (IST) is the UK based unique centre of excellence for all types of spring research, offering a wide range of services to the spring industry covering all aspects of springs, spring technology, and testing.
Features and Benefits:
Shot-peened for extended life.


Preset to prevent length loss in operations.


Powder Coated and color coded for ease of identification.


Closed and Ground Ends to provide appropriate squareness and adequate large bearing surface and so springs will stand on either end.
Configurations:
Lee Spring offers FIVE different types of HEFTY Die Springs, based on Load.
MEDIUM LOAD Color Code Grey


MEDIUM LOAD PLUS Color Code Beige


MEDIUM HEAVY LOAD Color Code Purple


HEAVY LOAD Color Code Black


EXTRA HEAVY LOAD Color Code Orange
Applications: HEFTY Die Springs are not solely used in dies but find application in clutches, brakes, farm machinery and aircraft mechanisms. They are ideal for use as die springs or for any high stress, heavy load application. Tips for Selecting and Using Die Springs
Determine if springs will be used for short run, average cycle long run, rapid cycle or extra stress.


Use as many springs in the die as space permits with the least amount of deflection.


The more rapidly a spring is cycled, the greater the need to operate within the ideal operating range.


Make sure hole and rod sizes are properly matched with spring. Faulty spring guidance will cause buckling and possible spring failure.


Preventive maintenance on dies should be performed on a regular basis and die springs should be replaced at appropriate intervals to prevent downtime.


Replace all springs in a die at the same time. This will insure an even distribution of the load.


Do not rework die springs by grinding the inside or outside diameter or by cutting off coils. This could result in premature spring failure and possible die damage.
---