MIL-SPEC Springs Now In Stock
Product Announcement from Lee Spring Company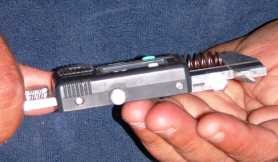 Lee Spring has added the full range of MIL-SPEC Springs to their stock product offering. Lee Spring is a leading manufacturer of products in compliance with Military Specifications for both Compression Springs (MS 24585) and Extension Springs (MS 24586). Lee's U.S. based operations offer both the engineering and manufacturing expertise required to meet these exacting standards. All Stainless Steel MIL-SPEC Springs are manufactured using DFARS Compliance material.
The United States Defense Standard, often called a military standard, "MIL-STD", "MIL-SPEC", or (informally) "MilSpecs", is used to help achieve standardization objectives by the U.S. Department of Defense. Standardization is beneficial in achieving interoperability; ensuring products meet certain requirements, commonality, reliability, total cost of ownership, compatibility with logistics systems, and similar defense-related objectives.
These high precision designs meet stringent technical requirements and are used in a multitude of Military and Aerospace applications, both defense and non-defense related. MIL-SPEC springs are increasingly specified by other non-Defense government organizations, technical organizations, and highly regulated industries including aerospace. For further information or to place an order, contact sales@leespring.com, visit www.leespring.com or call 888.SPRINGS.
---