Leine & Linde Offers Robust Encoder with DeviceNet
Product Announcement from Leine & Linde AB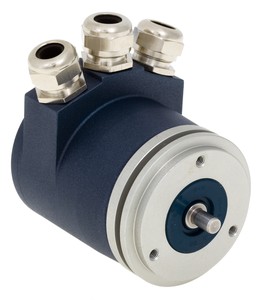 Leine & Linde introduces the availability of DeviceNet™ in the Leine & Linde 600 series, the highly robust ø 58 mm fieldbus encoder series. This support for fieldbus interfaces extends the range of applications for this already useful absolute rotary encoder.
This Leine & Linde series of encoders supports 13-bit singleturn or 25-bit multiturn with screw terminal or miniature M12 connection. Mechanically, various shafted- and hollow-shafted versions are available. The DeviceNet™ encoder supports encoder profile revision 2 and the functionality has been fully tested in compliance with the ODVA conformance test.
Overall, fieldbus technology is rapidly gaining acceptance and integration into automation applications worldwide. Based on network topology, system requirements and performance, various types of fieldbus systems are available, all developed and supported by individual standardization organizations. The key principle of fieldbus technology is to enhance device functionality, achieve communication transparency, simplify and standardize installations, as well as limiting the installation and maintenance costs. Sensors, like encoders, with support for various fieldbus interfaces have been available for several years and are increasingly gaining in acceptance and installed market share.
For more information on this encoder series, Leine & Linde can be accessed directly via the web site at www.leinelinde.com. The North American contact for Leine & Linde product is Tom Wyatt (at 847-884-3713 or twyatt@heidenhain.com) in the HEIDENHAIN offices at 333 E. State Parkway, Schaumburg, IL 60173.
Leine & Linde is based in Sweden with North American distribution through HEIDENHAIN Corporation in Schaumburg, IL, USA. Leine & Linde is well known worldwide for offering high quality, heavy duty encoders of both the incremental and absolute types, are noted for their product robustness and designed to cope with the harshest of environments, such as those with high vibration, dirt and cold temperatures. These heavy, severe duty encoders are suited for drive and measurement applications and are often found in industries such as pulp and paper, forest and wood processing, agriculture, aggregate and mining equipment.
#
---