XHI 803 Encoder
Product Announcement from Leine & Linde AB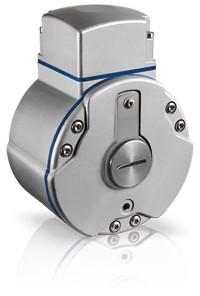 Emerging future demands will be met by a new encoder model from Leine & Linde. Model XHI 803 provides enhanced function, performance and design where it is most needed.
Evolved function
The model is available with a new electrical interface, 1 Vpp. The interface has sinusoidal output signals that can be highly interpolated, something that enables high resolution and more exact positioning. With a keywayed non-slip shaft, the interface is suitable for numerous safety applications.
Mechanically, model XHI 803 is available with through-going hollow shafts up to 25.4 mm.
Evolved performance
The performance of the product has been revised in detail. Both the internal components and the manufacturing procedure have been refined. This will enable greater encoder accuracy, higher resistance to vibration and higher resistance to ingress and corrosion in harsh environments.
Evolved design
Functional design is the key to easy handling when installing the encoder. The mechanical mounting is easily accessed by opening a small cover on the back. All electrical installation is done in an external terminal box, which means the internal electronics are always protected from the environment.
The encoder model for the future is here.
---