X-Heavy Duty Hollow Shaft Incremental Encoder
Product Announcement from Leine & Linde AB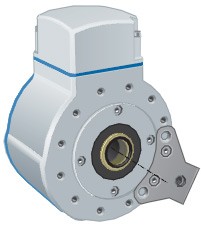 XHI 801 Extra Robust Hollow Shaft Incremental Encoder Features:
Performance model for heavy duty industry
Hybrid bearings for extended lifetime
High vibration and shock resistanceElectrically insulated up to 2.5 kV
Cable connection in external terminal box
Status output for warning indication Available with
Advanced Diagnostic System, ADS
The encoder can be equipped with an Advanced Diagnostic System that constantly checks the function of the encoder. In case of a malfunctioning, an alarm signal is sent electrically via the signal cable, and visually via an LED. Connection to a PC can be made for detailed information about the detected error.
XHI 801 Extra robust - See files
If you are looking for the most robust, maintenance-free and cost-effective pulse encoder, then the 800 series is the first choice for most engineers!
There is an option available for the encoders in the 800 series called ADS™ (Advanced Diagnostic System)* This is a system that is used for condition-based or preventative maintenance, guaranteeing the reliability of the application.
These encoders are designed for use in demanding environments where they are exposed to electrically and mechanically high-stress installations.In order to guarantee operation and to extend the service life of the encoders, we also offer accessories and complete design solutions as optional extras. These also reduce the total cost of your application.
---