Turnkey Thermoplastic Laser Welding System
Product Announcement from Leister USA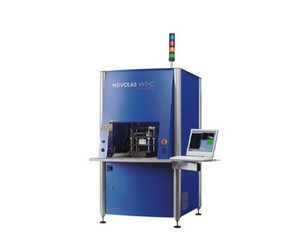 The NOVOLAS WS (Workstation) is a fully integrated system that includes it's own Process and Motion Control Systems available via Novolas MMI Software. The software allows for quick adjustments to the weld path and other process parameters.
Upon arrival, Novolas WS requires only power and compressed air supply to be provided to operate the equipment

A standard Novolas WS comes complete with: Laser module; Clamp device; XYZ motion system; Class I laser enclosure; and PC Controlled HMI Software.
Optional features include:
Pyrometer (for Temperature detection and weld validation)
Vision system for ease of setup
On board power measurement device
Two station rotary table
Technical Data
• Laser type diode laser
• Beam shape point and line laser
• Laser power up to 120 W
• Controller PLC-CNC
• Data Interface I/O, RS232 , Ethernet
• Pilot laser <1 mW
• Line voltage 200-230 VAC ± 10%
• Frequency 50-60 Hz
• Max. current consumption 10A
• Compressed air connection 6 bar, 1/4" hose
• Cooling water/air cooled, exhaust air max. 55°C
• Environment conditions 15-40°C
• Weight approx. 300kg
• Laser class 1 (Workstation) / 4 (OEM)
The NOVOLAS software allows user-friendly operation, programming and parameterization. The process control results are visualized and classified. Integrated remote diagnostics allows access to all relevant data required for servicing.

Play Turnkey Thermoplastic Laser Welding System Video
---