SmartLockPRO® Hospital Grade GFCI Receptacles
Product Announcement from Leviton Manufacturing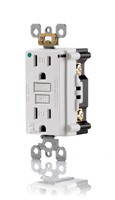 The Tamper-Resistant (TR) Hospital Grade (HG) GFCIs are the latest addition to Leviton's extensive line of hospital grade devices. Available in both15 Amp and 20 Amp, 125 Volt NEMA straight-blade configurations, the devices come in a full complement of colors, including ivory, white, red, light almond and gray. They feature two "TR" symbols molded into the face of the device for quick visual identification.
Leviton's SmartLockPRO tamper-resistant hospital grade GFCIs offer the most complete personnel protection, including line-load reversal and end-of-life indication. The tamper-resistant mechanism features mechanical shutters that prevent insertion of foreign objects by only accepting a properly-rated 2-pronged plug. The built-in tamper-resistant feature prevents personnel from coming in contact with the receptacle's live components and provides a higher measure of safety than other mechanisms such as plastic safety caps.
Designed for daily usage in hospitals, rehabilitation centers and recovery facilities, the SmartLockPRO TR Hospital Grade GFCI features a rugged, impact-resistant nylon face and has the smallest profile of any Tamper-Resistant Hospital Grade GFCI on the market today. It also features enhanced electronics for superior resistance to electrical surges and over-voltages.

In addition to tamper resistance, SmartLockPRO GFCI receptacles meet the latest UL requirements including line-load reversal and end-of-life indication. Each time a SmartLockPRO GFCI is installed, it checks for line-load reversal and will not RESET if mis-wired.
The end of life feature prevents the device from being reset and shuts off power to the face of the device and downstream receptacles if the device can no longer provide GFCI protection.
SmartLockPRO tamper-resistant, hospital grade GFCI receptacles are UL/CSA certified and have a Two-Year Limited Warranty. Complementary plastic, nylon and metal wallplates in single to four-gang configurations can be hot stamped or engraved and are also offered.
---