In-Roadway Warning Light LED Signal Module
Product Announcement from LightGuard Systems, Inc.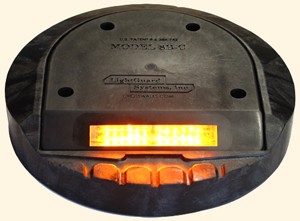 Dove Prism Technology
LightGuard Systems Part Number: LGS-9X
Description: The signal head contains LED light module, "Dove Prism", and electronic components.
System 9 Module
The In-Roadway Warning Light (IRWL) signal head module meets the standards for the Federal Highway Administration â€" Manual on Uniform Traffic Devices, FHWA-MUTCD.
LightGuard Systems newest technology is our System 9X LED. Each signal head contains an acrylic prism which fills a void between the LED lamps and the signal head facing surface. This prism surface is buffed to a smooth finish and sealed. Each signal head light module contains 16 LED lamps, available in amber, red, and white with bi-colored options.
This new model features a watertight cable connector, solid-state electronics, potted sealing of the LED modules isolating electronic components from environmental moisture intrusion. The Self Clearing Design eliminate most issues relating to lens blockage.
A Patent Pending method using the technology eliminates voids inside the signal head enhancing the rugged reliability of the unit. The new Systems 9 model virtually eliminates moisture intrusion and will operate under water without becoming disabled.
Typical IRWL system use employs several signal heads on both side of the crosswalk using a flash rate, operating at a 50% duty cycle. The flashing light beam can be easily seen in daylight from 200 to 600 feet or more away, and at night up to 1,500 feet or more away.
The signal head module is designed to tightly fit into the protective base plate. It is easily connected to the electrical cable system wires with snap together, watertight connectors. The interior is designed with double redundancy to further isolate the LED modules from roadway moisture and corrosive intrusion.
The signal head unit is fastened to the base plate with stainless steel socket head .25"-20 screws with thread locks, anti-seize compound applied to the threads in the factory.
â‡' See PDF of LightGuard Series 9 Signal Head Module Spec Sheet
Warranty and Maintenance
The LightGuard System offers a three year conditional warranty on all its in-pavement signal module components. Systems operate on both solar and A/C powered supplied units.
Maintenance, when required, on our signal heads is simple. There are four bolts to remove, a plug to disconnect, and a malfunctioned signal head can be replaced in a few minutes. Each generation of signal head is designed to retro-fit back into older systems.
Our company enjoys a high degree of repeat business due to its reputation in providing a specialized staff of highly trained individuals. Customers independently report that our customer service is highly qualified, prompt in response with a professional manner.
---