Pedestrian Crosswalk & Traffic Safety Systems
Product Announcement from LightGuard Systems, Inc.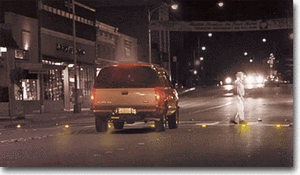 The System
In-Roadway Warning Light (IRWL) enhanced crosswalk system is designed to alert approaching motorists to the presence of a pedestrian at a street crossing. A number of in-pavement signal lights are placed across a roadway in front of crosswalk lines. The lights are activated by the pedestrian either by manual push button or automatic sensor activation, before entering the crosswalk. Once activated, the flashing lights are directed towards approaching drivers warning that the crosswalk zone is occupied and that caution should be exercised.
Enlighten 1™ Proprietary Flash Rate (Enlighten = "To Inform")
Proven Highly Effective Enhanced Flash Rate
Developed in cooperation with Dr. T.E. Cohn of the University of California Vision Detection Laboratory, U.C. Berkeley, our proprietary flash rate uniquely captures the motorist attention with a higher degree of efficiency than standard 50% on/off duty cycle typically used. It was designed to capture the primitive response reflex action of the human eye and increase the potential for the motorist to recognize and react. Do not be fooled by the term "enhanced"… Specify the Enlighten 1™ proven flash rate!
United States Utility Patent Position
Michael A. Harrison, CEO of LightGuard Systems Inc.®, invented IRWL enhanced crosswalk systems in 1992. In 1993 we received the Federal Highway Administration's authorization to experiment and in 1994 incorporated the company. In May of 2002 LightGuard Smart Crosswalk™ System received U.S. Utility Patent #6,384,742 B1 for a "System of lights that are embedded in the roadway at crosswalks." We also hold two additional in-pavement signal lights patents for railroad crossings and signalized traffic intersections.
Manual on Uniform Traffic Control Devices (MUTCD)
Beginning in 1994 numerous stringent third party studies and testing procedures using LightGuard System Inc.® technology successfully culminated in the acceptance of IRWL enhanced crosswalk systems into the Federal Highway Administration MUTCD. The Millennium 2000 edition adopted IRWL enhanced crosswalk systems into Section 4L, and they have been adopted as a standard across the United States.
---