Standard In-Roadway Warning Light Base Plate
Product Announcement from LightGuard Systems, Inc.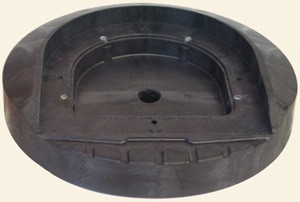 The in-pavement signal light mounting base plate is used to secure and protect in-roadway warning light (IRWL) signal head module. The dimensions of the base plate are 10" diameter and 1½" depth.
The shallow depth ensures that the lower roadbed is not penetrated. Two part epoxy compound permanently embeds the base plate into the roadway. The interior cavity is designed to contain all the electrical wiring for the IRWL. An elastomer O ring is placed into the horse shoe shaped lip creating a seal interface between the signal head and the base plate.

The signal head is fastened to the base plate with stainless steel socket head ¼"-20 screws with thread locks, anti-seize compound applied to the brass threads in the factory.

The base plate can be installed into asphalt or concrete roadbeds. The electrical conductors are embedded in the road bed via direct burial or in conduit.

Play Standard In-Roadway Warning Light Base Plate Video
---