CO2 Laser for Wire Stripping
Product Announcement from LightMachinery Inc.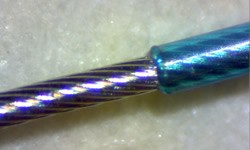 The staff at LightMachinery has been involved with CO2 and excimer lasers since the beginning of time. LightMachinery Excimer Lasers are designed for a wide variety of advanced applications in precision manufacturing and R&D including;
Excimer lasers enable clean non-contact stripping of a wide variety of wire and insulation types. The excimer laser is a standard industrial tool wherever mechanically fragile wires are used. The excimer beam removes insulation without any charring and creates a very clean metal surface.
Impact TEA CO2 lasers have proven to be a uniquely valuable tool for wire-stripping and other fine processing applications in medical device manufacturing, offering an extremely cost-effective alternative to excimer lasers.
Shown here is a single-conductor stranded wire, 0.0075" wire diameter, 0.00125 thickness ETFE insulation.
The high absorption of the 9.3 µm wavelength in most polymer materials, combined with the short pulse duration of TEA CO2 lasers, means that Impact lasers mimic the photo-ablative excimer process of excimer lasers, at ~50% of the capital cost, <10% of the operating cost, and generally higher throughput.

In wire stripping applications it is often advantageous to split the laser beam into 2 or 4 beams in order to remove the micro-wire insulation without the need to move or rotate the wire.
---