IMPACT 3000 Series Lasers by LightMachinery
Product Announcement from LightMachinery Inc.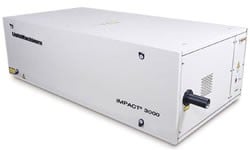 The IMPACT 3000 series lasers are high-power (up to 300 Watts) short-pulse CO2 lasers for surface layer removal and cleaning, non-destructive testing, and photochemistry. Applications include polymer removal, mold cleaning, paint stripping, Lidar and laser
isotope separation. The highest repetition rate model (3400) is intended primarily as a source for laser ultrasound testing.
---