UVC Sensor : L14UX Photosensor
Featured Product from Light in Motion LLC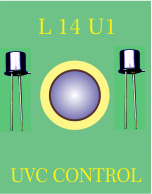 Light in Motion offers the L14UX photosensor : a UVC sensor in an hermetically sealed TO-46 package.
The L14UX is ideal for the control and monitoring of UVC light sources. It comes in two gain ranges, L14U1 and L14U2. Its hermetic metal/glass package makes it impervious to the damaging effects of UV light and resistant to harsh environment.
The L14UX sensor active element is a phototransistor with a special coating designed to enhance the sensitivity in the UVC range (100nm to 280nm wavelengths). It comes in two gain classes : L14U1 (higher gain for low UVC flux) and L14U2 (lower gain for high UVC flux applications).
It is packaged in a metal/glass can, making it impervious to the UVC light destructive effects on plastic materials, and providing a robust and reliable construction, which is required considering the application conditions the device might be submitted to: moisture, high temperature variations, corrosive environment.
The optical port is a flat glass window, resulting in a wide optical aperture (+/- 40 degree) that is ideal to sense the ambient level of UVC radiation. It also provides an integration effect on the incident light that smooths out the inhomogeneity of the wavefront.
The product has been designed to provide a sensing tool to monitor and control the level of UVC radiation in sanitizing machines and germicidal instruments, either from traditional UV lamps or solid state LEDs.
A suggested control circuit is described in the white paper: Controlling UVC power with the L14U1 sensor
Visit our website for more information.