Hermetic GaAs Infrared Emitting Diode
Featured Product from Light in Motion LLC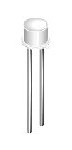 Light in Motion currently offers a portfolio of high performance, high reliability hermetic LEDs and Photosensors, as well as photointerrupters. These hermetic GaAs Infrared Emitting Diodes offer high radiant intensity and are RoHS compliant.
Features
Good optically to mechanical alignment
Mechanically and wavelength matched to the TO-18 series phototransistor
High radiant intensity - typ. 37mW/Sr
RoHS compliant
The LED55B, LED55C & LED56 is a 940nm
LED in a narrow angle TO-46 package.
Stresses exceeding the absolute maximum ratings may damage the device. The device may not function or be operable above the recommended operating conditions and stressing the parts to these levels is not recommended. In Addition, extended exposure to stresses above the recommended operating conditions may affect device reliability. The absolute maximum ratings are stress ratings only.
Why Choose Light in Motion?
High Quality Products
High Reliability
Extensive Product Range
Semi Custom Options
Custom Options
Vast Application Experience
Great Customer Service
We can meet specific application requirements by design.