High Performance IRLED : QEB651
Featured Product from Light in Motion LLC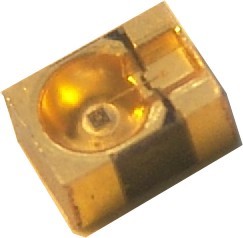 Light in Motion is offering the QEB651: an Infrared Light Emitting Diode in a surface mount high optical performance package.
The QEB651 is ideal to replace bulky through hole lensed IRLEDs while keeping similar optical performances with the benefits of surface mounting and low profile.
The QEB651 advanced optical design provides an intensity on axis similar to lensed products, albeit in a miniature SMD package: 25 mW/sr minimum for a 70 mA driving current, with a total emission angle at half intensity of 30 degree.
Its emission wavelength at 850 nm is compatible with the detection bandwidth of silicon photodetectors.
The QEB651 switching speed is two orders of magnitude faster than most IRLEDs, which enables high speed optical links applications.
Owing to its miniature size, it is ideal for cluster applications like IR illumination for Infrared cameras.
It can also be paired with the logic photodetector LIM158FS to form an encoder module.
Model files are available upon request.
Visit our website for more information.