JEDEC registered HIgh Intensity IRLED 1N6266
Featured Product from Light in Motion LLC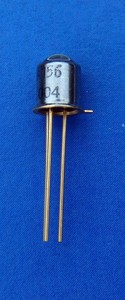 Light in Motion is offering the 1N6266 as part of its portfolio of hermetic Infrared LEDs in metal package.
The 1N6266 is a 940 nm LED in a narrow viewing angle, TO-46 package.
Owing to its open center die technology, the 1N6266 provides a high on axis radiant flux, minimum 25 mW/sr and Typical 40 mW/sr at 100 mA of continuous drive current.
The 1N6266 is a perfect match to the hermetic phototransistor L14G1 : at a separation distance (seating plane to seating plane) of 2 cm, and a driving current of 100 mA, the resulting collector current on the phototransistor of at least 12.5 mA, which allows for a robust electrical design. See more details in the datasheet.