1X4 / 4X1 Latching Optical Switch Module
Featured Product from Lightwave Link, Inc.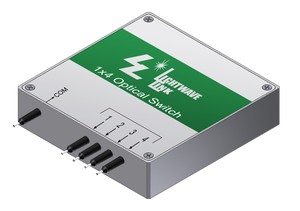 This 1×4 / 4×1 OSW Module has 1 Input Port, 4 Output Ports or 4 Input Ports, 1 Output port. The Module is controlled by a set of electrical connections. Electrical feedback will be provided by the Module indicating which state the optical switch is in. Lightwave Link Inc. 1×4 / 4×1 OSW Module fully complies with RoHS Directive 2002/95/EC (2008/385/EC).
Key Features
Compact Size
Low Insertion-Loss
Fast Switching Speed
Built-In position monitoring
Latching Type available
RoHS Compliance