Optical Line Protection Module
Featured Product from Lightwave Link, Inc.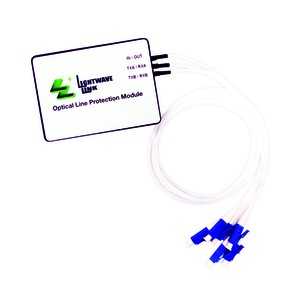 Lightwave Link Inc OLPM (Opcal Line Protecon Module) is combined with opcal switch, opcal spliter and opcal power monitoring funcon.

The OLPM is consisted of one 1x2 opcal switch, one 1x2 opcal spliter and PD monitoring. The subsidiary electrical circuitries are for driving opcal switch, performing PD monitoring and demarcang PD linear range with I2C interface.

The main funcon of OLPM are spling opcal signals, selecng opcal light path and monitoring the opcal power.

Lightwave Link Inc OLPM comply with TELCORDIA GR-1312-CORE.
Applications
Split the input light source to two paths by 1x2 spliter (IN→TXA/TXB).
Monitoring the opcal powers from RXA/RXB and feedback to management system via I2C interface.Management system will control the opcal switch via subsidiary circuitries to obtain the opcal light path selecng funcon.