Absolute Linear Encoder - Resolution to 1 µm
Featured Product from Lika Electronic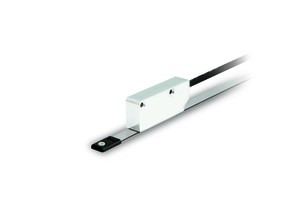 SMA2 absolute linear encoder from Lika Electronic is ideally suited for position and speed feedback applications where small size, fine resolution and great accuracy are mandatory. It is also designed to be rugged under the harshest industrial environments. So it can operate reliably across a broad spectrum of sectors, applications, and conditions such as linear motors, product handling equipment, robotics, packaging lines, woodworking, metalworking and stone-cutting industries, electronic assembly systems, sawing machines, paper-making machines, textile machinery, printing and measuring machinery, electro-medical instruments, machine tools, plastics industry. By virtue of the non-contact operation, SMA2 is virtually wear and maintenance-free.
SMA2 provides high resolution down to 1 µm and high accuracy of ±2 µm/m. It further enables high speed operation up to 7 m/s (22.97 ft per sec.) over a max. measuring length of 8.1 m (26.57 ft). It is paired with the MTA2 10 mm / 0.39" wide magnetic tape. The scale is magnetized with two tracks, so the encoder is able to deliver both the absolute information for position feedback through BiSS-C and SSI interfaces and the incremental information for speed feedback through the NPN o.c. output circuit.
The readhead is extremely compact and slim, yet robust and insensitive. Electronics is fully encapsulated and optimally protected against dust, grease, oil, liquids, contaminants as well as shocks and vibrations (IP67 protection rate). The large permissible tolerances ease installation and enable minimum mounting time.
SMA2 is equipped with a high-flex cable especially suited for use in cable drag chains. It can feature flying leads or an integral M12 connector at the end.
Find out more about the comprehensive range of Lika Electronic's linear encoders, please visit http://www.lika.it/eng/prodotti.php?id_cat=266